Capabilities
Research & Development
Raritan Pharmaceuticals has assembled a talented and experienced team of pharmaceutical research scientists in a fully-equipped R&D laboratory. Raritan's expertise in fast-dissolving chewable tablets has led to major improvements in chewable antacid and chewable fiber laxative products.
Raritan owns several patents in innovative drug delivery systems and has filed for additional formulation patents.
Raritan's team of pharmaceutical scientists possess R&D and scale-up expertise in Powders, Capsules, Specialty Liquids, Gels, Ointments, Creams and Film-Delivery systems. Raritan also possesses extensive development expertise in high-end cosmetic and Cosmeceuticals product lines.
Contact us to design and develop your next pharmaceutical or cosmetic product.
Facility
Raritan operates in a modern pharmaceutical facility designed for processing, manufacturing and packaging operations. Raritan has invested in state-of-the-art manufacturing and packaging equipment. Raritan's ERP system and integrated EDI capabilities are set up to enable real-time data collection.
The R&D and Quality Assurance laboratories are fully staffed with highly qualified scientists and technicians and are equipped to handle all analytical requirements according to USP and cGMP standards.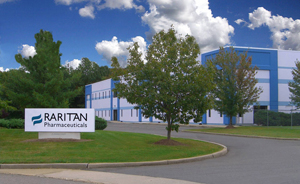 Regulatory Affairs
All operations are conducted in cGMP compliance and are routinely audited by the FDA (Food and Drug Administration). Raritan has an excellent regulatory record and is committed to maintaining and continually improving current good manufacturing practices. Raritan has also been audited by leading independent quality assurance firms and quality departments of leading companies and has been certified to be cGMP compliant.